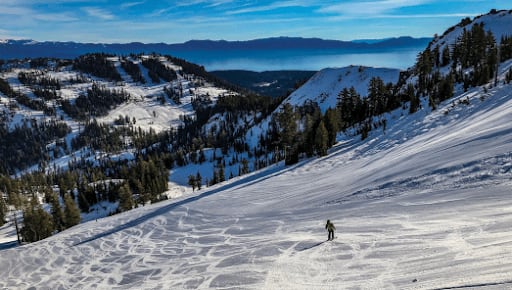 Squaw Valley entered the national spotlight in 1960 as the host of that year's Winter Olympics. Today, more than 600,000 people visit Squaw Valley each winter, making it one of the most popular ski areas in the country. Located 12 miles south of Truckee, Squaw Valley offers plenty of options for year-round activities and entertainment. Alpine Meadows is set in a canyon nestled off of Highway 89 between Truckee and Tahoe City. It is known as the neighborhood adjoining the ski resort of the same name, is a quaint community located about six miles northwest of Tahoe City. Alpine Meadows has a permanent population of around 500 residents, with three single-family home subdivisions and five townhome and condo complexes. Homes in the community - most built in the contemporary and mountain styles - off erstunning natural scenery as well as quick access to the slopes in winter months.
What to Expect
The Alpine Meadows neighborhood is wooded and hilly and the elevation is slightly higher than other North Lake Tahoe neighborhoods, so snow melt takes longer in Spring. Skiing, snowboarding, and ice skating rule during the winter months, while in the summer, residents enjoy hiking, biking, golfing, swimming, and horseback riding. The Village at Squaw Valley hosts numerous musical events and festivals during the summer and is home to dozens of restaurants and shops.
You'll Love
Most Squaw Valley homes are built in the mountain or contemporary architectural style and range from those constructed in the 1950s to newer properties. Alpine Meadows has many extra large and more modern architectural mountain properties, with streets winding through the forested terrain. It's close proximity to Alpine Meadows ski resort makes it especially appealing to skiers.
The Lifestyle
By far, the best thing about Squaw Valley/Alpine Meadow is the peace and quiet. Tucked between Truckee and Tahoe City, these areas are picturesque destinations for any nature lover. Their close proximity to the slopes make skiing, hiking, and exploring the wooded surrounds easy. Squaw Valley/Alpine Meadows are the perfect mix of mountain ambiance and resort life.
Shopping & Dinning
Alpine Meadows Resort
Squaw Valley Resort
Scott Peak
Ward Peak
Paige Meadows
Five Lakes Creek
Granite Chief Wilderness
Granite Chief Trail
Shirley Canyon Trail
Squaw Creek Trail
Eagle Rock Trail
Tahoe State Recreation
Things to Do
Alpine Meadows Resort
Squaw Valley Resort
Scott Peak
Ward Peak
Paige Meadows
Five Lakes Creek
Granite Chief Wilderness
Granite Chief Trail
Shirley Canyon Trail
Squaw Creek Trail
Eagle Rock Trail
Tahoe State Recreation